Government Support & Incentives May Be Available In Your Area...
FAQs
What rope / poly wire do you package with your machines?
---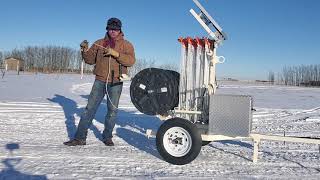 ---
How important is keeping your solar panel clean?
---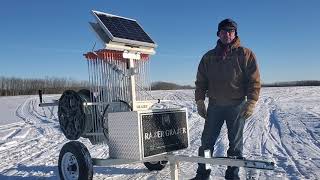 ---
How do I begin my cross fence?
---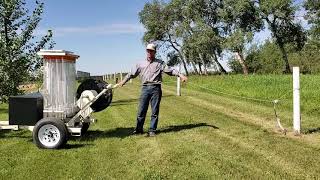 ---
From start to finish, explain setting up a fence line with a Razer Grazer.
---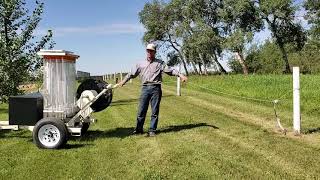 ---
What is the most common cause of power fence failures?
---
80% of all power fence problems can be traced to inadequate grounding. Your grounding system must be perfect for your fence to perform at its best. After all, it's half the system. Recommended Grounding In general, you will need one 6-foot galvanized ground rod for every three joules of energizer. Power Grazer and Razer Grazer Trailers come equipped with a 24" hammer in/hammer out portable ground rod. Since most portable fence is less than 2 miles, this is normally adequate. If you are in dry, or rocky soil conditions additional ground rods are required. Additional Power Hammer Ground Rods are $79.00 each. Permanent ground rods and hardware are $28.99 each.
---
How do I know if I have a good ground system?
---
Here's how you can check. Disconnect power from your fence energizer. Place the fence under heavy load by "shorting" the fence as follows: At a location on the fence at least 100 yards from the energizer lean 3 or 4 steel stakes or unpainted T-posts against the "hot" wire of the fence. (Alternatively, some people have found a successful method is to push several pieces of fence wire into the earth and wrap the opposite ends around the hot wire) Plug the fence energizer in and check the fence line voltage with a digital voltmeter. You want to see that the voltage has dropped below 2,000V due to shorting the fence. On some high-powered fence energizers, you may not be able to short the fence below 2,000V. However, you can still test them at a higher voltage. Continue to short the fence by leaning steel posts or by making wire connections to ground at 100 yards distance or more from energizer until the fence line voltage drops below 2,000V. You are now ready to test the energizer ground system. Connect one lead of the digital voltmeter to a 12-inch metal stake driven into the ground 3 feet away from the last fence energizer ground rod. Connect the second lead to the ground rod furthest from the energizer. The voltage reading should ideally be zero or no more than 200V. Gallagher fence volt/current and fault finder fits in your shirt pocket. Save time tracking down fence and ground faults $205.99 each. Add button to take the reader to this item in ADDITIONAL ACCESSORIES If the digital voltmeter reading is under 200V, your ground system is adequate, and you will get near maximum performance from your electric fence energizer. If the reading is above 200V, then your ground system needs improvement.
---
How do I carry the hot and ground wires past all the gates in my fence?
---

The best way is to bury heavy-duty insulated cable in a trench about 10 inches deep. Make sure it's rated to 20,000 volts minimum, or it may leak current with today's high-power energizers. Do not staple it to the post. Remember to carry the ground wire across the gateway also, using the same type of cable. It can be buried in the same trench as the hot cable. Bungy electric gates are easy to erect, easy to use, and provide that extra "give" when animals crowd the corner or gate. Bungy electric gates should not be used to provide power for additional fence on the other side of the gate. Always use heavy duty insulated cable either overhead or underground to power additional fence. Bungy kit price for 18 to 35 ft gate is $49.95 Add button to take the reader to this item in ADDITIONAL ACCESSORIES
---
---
Testimonials
"They've been extremely handy, easy to used and reliable..." - John
---
"I have 2 of the Power Grazers and 1 of the Arms for the Quad. We're using them for temporary fence lines to force the cattle to graze areas of the prairie that they don't normally spend much time on. They've been extremely handy, easy to used and reliable. I'll keep you (Range Ward) in mind if I need anything else as the spring progresses." John
---
"It's working very good." - Bruce
---
"I am using it (Razer Grazer) now, and it's working very good."
---
"Both an economic and stewardship option" - Rob
---
"The grazer electric fence is both an economic and stewardship option for range users in B.C.. The stewardship is allowing range managers a low-cost option to protect vulnerable rangelands and important habitat. Okanagan Shuswap district is currently using the Power Grazer to replace wildfire impacted fences as an intern manner where targeted grazing is occurring. When fencing can cost in excess of $20,000 per km, Power Grazers can achieve the same results at a fraction of the cost!" -Rob
---
"Haven't had any breakouts" - Marc
---
"we have 250 heifers on 14 acres and haven't had any breakouts "yet" keep my fingers crossed!" - Marc
---
"Love it!" - Holly
---
"We bought a Razer Grazer and used it this winter. Love it!" Holly
---
"They offer such great products." - Friends of Bar U
---
"It's easy to support local business when they offer such great products. Thanks to Norm and the crew at Range Ward based in the Claresholm area for setting us up with a couple of Power Grazer units which makes electric fencing a breeze!" Friends of the Bar U
---
"RangeWard makes the job easy." - Bar U Ranch
---
"Grass management is very important on the National Historic Site. Within the historic headquarters of the Bar U Ranch we want to protect our buildings from the threat of fire by keeping the grass low and what better way to do that than letting our Percheron horses graze. In the past setting up temporary pastures was a chore due the odd configurations of including grass and not buildings. Our Power Grazer units from Range Ward make the job easy. Our Percherons thank you!" - Bar U Ranch
---
"Proving to be a handly little unit" - Ryan
---
"The #razergrazerby @rangeward is proving to be a handy little unit for getting back in the cropping system" - Ryan
---
"The best set it and forget it system out there!" - Adrienne
---
"The best set it and forget it system out there! No changing batteries and no looking for step-ins. So easy the kids can do it!" Adrienne
---
"Extremely well built and very well designed" - Rob
---
"The razor grazer is extremely well built and very well designed, coming from a company that stands behind what they sell & say. Great products & people!! It's easy to see that these products are designed by people who work in the field!" Rob
---
"The Fastest and most efficient tool we've ever used" - Matt
---
"The Razer Grazer is the fastest and most efficient tool we've ever used in our grazing system." Matt
---
"A high quality, easy to use, and dependable product!" - Dustin and Niki
---
"We have been using Range Wards power grazers for over ten years now. The power grazer is the most used piece of equipment on our ranch. It has allowed us the ability to easily adapt our grazing program to the ever-changing variables of the weather, the land and the livestock. I would give up my tractor before I would give up my power grazers!! Thank you for providing such a high quality, easy to use, and dependable product!" Dustin and Niki
---
---